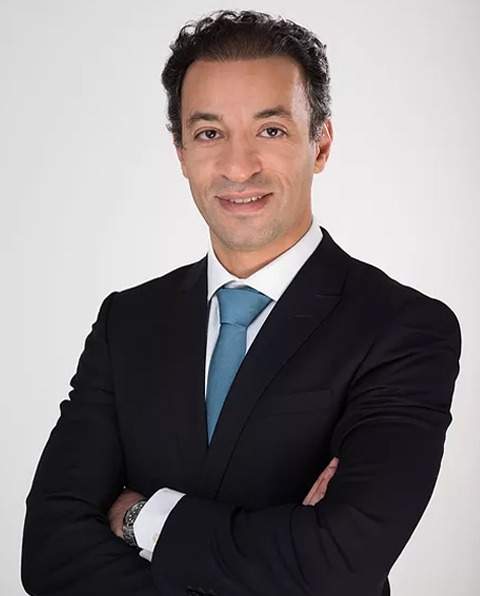 Mr Radwan Almousa MD, FRCOphth, CertLRS
PMC, The Wellington Hospital My-iClinic Barking, Havering and Redbridge University Hospitals NHS Trust
Ophthalmology consultant, My-iClinic London, UK. Mr Radwan Almousa is an anterior segment surgeon. He spent a year as an oculoplastic fellow in Singapore at one of the prestigious teaching hospital worldwide, the National University Hospital, and then back to the UK, he underwent a cornea and refractive surgery at Queen Victoria Hospital. Following this extensive training Mr Almousa developed a passion for anterior segment disease, thriving for adapting up to date treatments to improve the quality of vision. Mr Almousa has special interest in managing corneal diseases, and he published some of the first series about applying the femtosecond laser in corneal grafts.
Correcting the eyelid malposition is a passion for Mr Almousa and combined with his experience in cornea, he aim to improve the position of the eyelids, while paying special attention to maintain the health of the eye surface.
Cataract surgery
Laser refractive surgery
Oculoplastic
Cornea
Glaucoma
Current membership(s) of professional bodies:
Fellowship of the Royal College of Ophthalmologists
Membership of the Royal College of Surgeons (Edinburgh)
Membership of General Medical Council, UK
Member of the International Society of Refractive Surgery of the American Academy of Ophthalmology
Cataract surgery, Laser refractive surgery, Lamellar corneal graft, eyelid malposition, minimally invasive glaucoma surgery.
Mr Almousa contributed to the ophthalmic knowledge, and he published 16 articles in peer-reviewed journals covering different aspects of cornea and oculoplastic disease. Also he presented his work in various international meeting worldwide.
This is a provisional appointment only, all appointments will be confirmed by the secretary.
[ea_bootstrap width="1000px" scroll_off="true" layout_cols="2"]